So I made a post about my journey in building a stereo system here:
http://www.canuckaudiomart.com/forum/vi ... =4&t=39574
I thought I would make a separate post in this subforum in case anyone is interested about my experience building a cheap dedicated music server system using the Raspberry Pi 2. I don't see there is much information about using the Raspberry Pi on this forum so I thought I would share my experience with anyone who is interested. There is lots of resources on the internet...but maybe this post will give you some ideas. Basically this system will cost you approximately $150 CAD (or less) and will give you functionality of standard music server once you attach a USB flash drive, USB HDD or NAS to the it. It will allow you to access and control your playlist from your phone/tablet/computer through a nice web GUI interface. You will also be able to play Internet Radio streams in *.PLS or *.M3U file format. It is also compatible with Spotify Premium. The quality is decent...for $150 (or less)...you will be surprised at how nice and musical it sounds. Sure I will not say it sounds better than a $3000+ dedicated audiophile quality media server...but I am sure you would have to spend at least 10x to get much better quality.
So, for those who do not know, the Raspberry PI is a miniature computer board that is more than powerful enough to serve/decode music. There are multiple versions, but I used the Raspberry Pi 2 which is the latest and most powerful version. It costs about ~$50 (approximately $44 + shipping). It has HDMI out, Ethernet port and 4x USB plugs. They look like this:
You can buy a case to put the Raspberry Pi board in....but you can run it naked without a case as well. Cases will run about $10 - $30+ depending if you want something made out cheap ABS plastic or if you want something made out metal. Some people have built their own case using Legos or wood. I purchased a cheap plastic one called "HighPi" from a Canadian Raspberry Pi retailer. You need to feed the Raspberry Pi power through a micro USB connector. Usually, an old cell phone charger should work--it needs about 2A. If you don't have one you can buy a power supply for $10-$15. You also need a micro SD card to install the OS on...approximately 8GB+ is preferred. If you don't have one you can buy one of these for $8-$12.
The Raspberry Pi 2 itself does not have a very good audio output stage. The recommendation is to get a DAC. There are two thoughts on this. You can just plug in a USB DAC to the Raspberry Pi, but I have read that there are some complaints regarding pops and noise over the USB. Something with its own clock source might work well here.
The other cheaper option is to buy a expansion DAC daughter board that will plug directly into the Raspberry Pi 2 over the I2S bus. There are lots of choices here...but the two popular ones are either HiFiBerry (based in Switzerland) or iqaudio (based in the UK). They range in price between $35 - $45 USD plus shipping. Probably will cost you about $60 CDN when all is said and done. HiFiBerry has a daughter board that will output to Optical (Toslink) connection if you want to hook it up to an existing DAC.
I personally purchased the HiFiBerry DAC+ PRO which has its own internal clock source and outputs to gold RCA connectors. It stacks on top of the Raspberry Pi 2 like so (photo shows the DAC+ model instead of the DAC + PRO):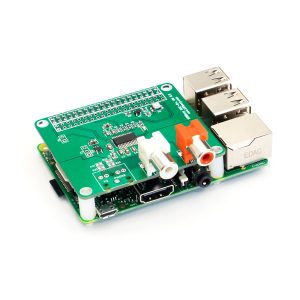 You can use the software installer on the HiFiBerry website to create the system software for the microSD from their website:
https://www.hifiberry.com/guides/hifiberry-installer/
The software is free. I run Volumio which has all the functionality I care for. I can select MP3 or internet radio streams off my phone/tablet/computer using the web interface. A sample screenshot is here:
The Raspberry Pi 2 is hidden behind my receiver. I connected it to an old 500GB external hard drive to the USB of the Raspberry Pi 2 that has all my old MP3s and ripped CDs files (make sure the external HDD is self powered and doesn't require power from USB as the Raspberry Pi 2 will not provide enough power through USB). At first I was skeptical...how good would a $60 DAC and $50 computer sound? But overall, it sounds very musical and I am happy. For $150 this is a great little setup. Hope this write up helps someone. Let me know if you have any questions.