EXPIRED

- DEALER AD: Silver Braid, detail and smooth
Item #649256599

Info:

Silver Braid, detail and smooth
Asking Price:

Retail Price:

USD $129.99

Payment method:
Cash, Paypal, Cheque, Money Order
Shipping weight:
0.45 (kg)

Calculate Shipping

Shipping Dimension:
2.54cm x 2.54cm x 0.00cm
Condition:
11 - New (?)
Date Posted:
Nov 02, 17 7:32am (PST)

Edited: May 02, 18 1:48am

About Seller:
aural thrills audio
Garland, TX
United States
[other classified ads]
Product Brand:
Aural Thrills Audio
Product Model:
Ailver Braid 1M
Feedback Received:
1 See details
100% Positive Feedback
External Feedback:

billardhockey (1366)

Days in System:
180
Ships to:
United States, Worldwide
Shipping Cost:

Allow Local Pickup

Worldwide: $20.00 (standard
United States:

FREE

Views:
309
Avg. Views/Day:
1.72
Description
Sponsored post - log in to remove this ad.
Finally, a 99.99 pure Silver
interconnect that will not break the bank. It is constructed of three solid
strands of 30awg pure Silver. Silver is the best conductor. Since it is not
shielded, the sound is very open with great detail, air, and space. Braiding the
wire helps to prevent EMI absorption. This cable is modeled after the famous
Kimber Silver Streak which cost $300-400. The Silver wire is surrounded by pure
virgin Teflon. Teflon is one of the most inert substances known to man. This
helps create a very accurate cable.

For years I have wanted to get the
Brass out of my cables. Brass is a terrible conductor and adds a real dullness
to the sound. Silver is the best conductor followed by Copper and then Gold.
Brass is way further down the list. Brass is made of Copper and ZINC. Zinc is
not a good conductor. The reason that RCA connectors are made of Brass is ease
of manufacture as well as malleability. Conductive ability is not on the list of
positives for this type of construction. ALL Rca connectors are made of brass
and then coated with Silver, Gold,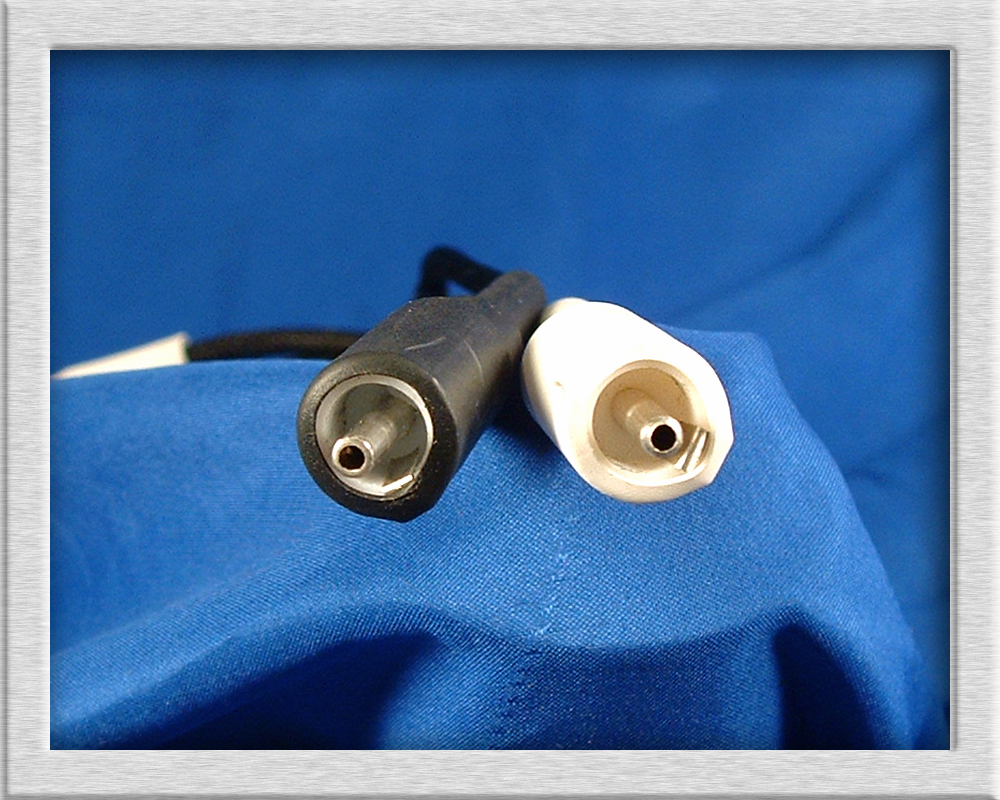 or
some exotic metal to make you think it is a great conductor. The truth is that
it is just Brass that has been coated, no matter what they advertise, Straight
Copper, Silver, etc., would be far too soft and not hold it's shape. Finally, I
have designed what I feel is the finest connector on the market.. PERIOD. It
uses a solid, pure Teflon base that has been machined to accept a center pin and
ground conductor. Teflon is one of the most inert substances on the planet. The
Teflon plug surrounds the RCA connections on your equipment as well as the cable
wires to insure a quiet, interference free sound. Getting rid of the Brass
allows the use of super conductor metals which insure the pristine delivery of
your sonic pleasures. Why make a cable that is painstakingly designed to deliver
all information and then plug up both ends with a poor conducting Brass
connector? Why use 99.999% purity wire and then use Brass in the circuit? Brass
is really just copper with impurities in it. There is more to a good cable than
the metallurgy of the wire. This design features a Silver, center pin and a thin
Silver return line to insure a minimal contact point. Silver has a sound of
great detail, air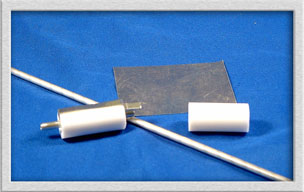 and
space. The thing that really impressed me the first time that I heard this
design was the spaciousness and unbelievable detail. Next I noticed the black
background. A product of the solid Teflon plug. These plugs sound as good or
better than the WBT NextGen's which sell up to $80 EACH. These plugs blow away
and are more reliable than the Eichman Bullet. These plugs sound better than any
Brass plug made! No one else has them. Please visit my site at auralthrillsaudio
for more unique products.
The care that goes into making a
pair of these is evident in the details and quality of materials being used. we
have isolated every sound quality by many, many, hours of critical listening.
From the solder, to the RCA connectors, to the wire being used, we know exactly
what each element brings to the sonic table. It is by careful mixing of each
harmonic ingredient that Aural Thrills Audio has arrived at this design. Please
do not compare these cables to the imported cheap cables widely available. These
are a true audiophile design and you will hear the difference. Just a word about
Aural Thrills Audio. We are a personal, upscale, company that builds and tests
custom cables one at a time. We run only one company, 24/7 and strive for your
complete satisfaction. Please check out our 100% positive feedback. The goal is
to be the best high end, custom cable company by designing and producing
innovative products to order. Our audiophile grade of wire is made exclusively
for us and is created using base metals of 4 nines or better. The innovative
engineering and designs make us a leader of high tech cables. In closing we want
to thank all of our present customers and look forward to making many new ones.
On Sale

---
This ad was originally posted on

US Audio Mart and the seller ships to the United States, Worldwide.
Includes:
Free Shipping in USA
Canuck Audio Mart is FREE!